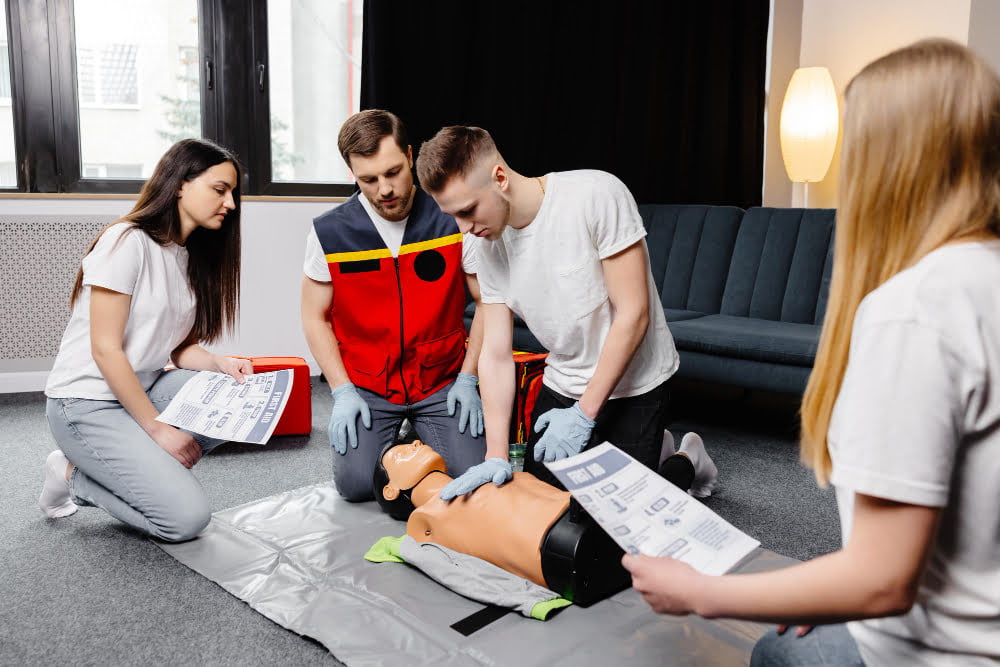 Introduction
In a world full of uncertainties, accidents and emergencies can happen at any time. Being equipped with the knowledge and skills to provide first aid can make all the difference in saving a life.
In this article, we will explore the importance of first aid training and how to find the best "first aid training" Whether you're a concerned parent, a responsible citizen, enhancing your resume or requiring first aid training for your job, this article will guide you through the essentials of first aid training.
The Importance of First Aid Training
What is First Aid?
First aid is the immediate assistance provided to a person suffering from an injury or illness before professional medical help arrives. It involves techniques that can stabilize a person's condition until they can receive proper medical treatment.  These techniques are simple, yet can be life-saving.
Why is First Aid Training Important?
1. Rapid Response
First aid training enables individuals to react quickly in emergency situations. Seconds count in critical situations, and knowing what to do can prevent a minor issue from becoming a major tragedy.
2. Increased Survival Rates
Statistics show that immediate first aid can significantly improve a person's chances of survival. Having trained individuals nearby can make a critical difference.
3. Confidence in Crisis
Knowing what to do in an emergency can reduce panic and anxiety, allowing you to provide effective assistance calmly and efficiently.
Finding First Aid Training Near You
1. Local Providers
There are many First Aid providers throughout Canada. Ensure your First Aid training organization is approved by the regulators. In Ontario, the Workplace Safety and Insurance Board (WSIB) of Ontario approves First Aid training providers to deliver First Aid programs.
FAST Rescue is recognized by WSIB in Ontario as an approved provider. With comprehensive training and experienced instructors, FAST Rescue is renowned for providing the best training experience in First Aid & CPR/AED.
2. Community Centres
Many community centres and local organizations offer affordable first aid training programs. These can be an excellent option for those on a budget.
3. Online Training
In today's digital age, you can also find blended first aid courses where the theory portion of the training can be completed online. However, ensure that the course is accredited and recognized by relevant authorities.
4. Hospitals and Medical Institutions
Some hospitals and medical institutions offer first aid courses, often taught by healthcare professionals.
Certification and Renewal
First aid courses offer certification, which is valid for a 3 year period. To be certified, your training must be up-to-date.
Conclusion
First Aid training is a valuable skill that everyone can and should learn. It empowers individuals to act confidently and effectively during emergencies, potentially saving lives. Whether you're a parent, a teacher, a concerned citizen, or a worker, knowing where to find "first aid training" is the first step towards making your community safer.
First Aid Training Near Me (FAQs)
1. Is first aid training only for medical professionals?
No, first aid training is for everyone. It's essential for anyone who wants to be prepared to help in emergencies.
2. How long does a typical first aid training course take?
The duration of the course varies depending on the first aid training you complete. Workplace First Aid training requires 2 full days in-class or 1 day online for theory and 1 day in-class.
3. Is online first aid training as effective as in-person training?
Fully online First Aid training is not approved. Blended First Aid courses are effective, providing a blend of online training with practical in-class training.
4. Can children also learn first aid?
Yes, there are age-appropriate first aid courses designed for children, providing them with valuable skills.
5. How often should I renew my first aid certification?
Certifications are valid for three years. You must renew your certification before the expiration date to be certified.
Contact us for classroom, onsite, or blended First Aid Training, JHSC Certification Training or Working at Heights Training in Ontario.